May 27, 2023, marks an important milestone for New River Electrical as we proudly celebrate 70 years of success. New River has been a leading electrical contractor since 1953. Our commitment to safety, expertise, and relationships has been critical to our success. Join us as we walk down memory lane, highlight some of the milestones that have made us who we are today, and mention our noteworthy accomplishments over the past 70 years.
A Look Back on New River Electrical
From humble beginnings of using scraps and lumber to build structures to weathering the Flood of '85, our history is filled with many significant milestones. Let's dive into the notable events that have shaped New River's legacy.
The First Job
A Fleet of Their Own
The Flood of '85
The First Underground Residential Distribution Contract
The Start of An Employee-Owned Workforce
The First Job
On May 27, 1953, Mr. Sherrill Stockton founded New River Electrical Corporation after retiring from the United States Navy as a Chief Electrician. Mr. Stockton envisioned the opportunity for reputable outside contractors to join major utilities. He possessed the experience and high moral character standards instrumental in the core direction in which New River was founded.
"Our founder and the past leadership laid the foundation that enables us to move forward in building what we have. They gave us ownership, and today we instill that mentality in our crews," says Johnny Lanning, SVP of Operations – Cloverdale.
Our first job was constructing a wood pole distribution substation near Jackson, Ohio. After completing this project, NRE continued gaining trust as an electrical contractor in the industry; the rest is history.
A Fleet of Their Own
In the 1950s, New River purchased its first truck, a 1953 Ford F-600 Flat Body. This A-frame truck would be the first vehicle in a fleet that has grown for over 50 years, nearing 2,000 vehicles today. We would not be as successful without this investment in equipment.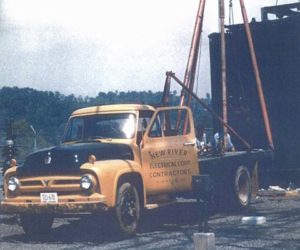 The Flood of '85
The most severe flooding in Roanoke, Virginia history occurred on November 4, 1985, when heavy storms from Hurricane Juan traveled over our communities. The corporate office was flooded, with the waterline reaching above 4'. Debris and water flooded the town, leaving homes and businesses severely damaged.
Johnny Lanning mentions, "I remember the flood washed a truck off the lift in the garage. I worked over 80 hours that week because the flood washed out all the electrical systems at Roanoke Memorial Hospital."
President/CEO Robert Arritt, Jr. recalls, "I remember everybody in the office pitched in to clean up the garage, the shop, and the office. If you weren't helping a customer, you were working to help clean up New River. The whole office had four feet of water inside, but New River Electrical never shut down. It kept operating the whole time."
The First Underground Residential Distribution Contract
In 1986, New River was awarded our first Underground Residential Distribution (URD) contract with Colombus Southern Power in Westerville, Ohio, which we still have today. This project is the longest-running contract in the history of New River Electrical.
This work includes subdivision backbone construction and residential secondary service installations, primary cable replacement via directional boring, utility maintenance and faulted cable repairs, and cable injections.
"Shortly after we were awarded the contract, we had to have a place to call home near Columbus, Ohio. We ended up purchasing a lot of land and several properties surrounding the lot. New River started in a trailer and that turned into the Westerville, Ohio, office," says Arritt.
The proven expertise on this contract opened the door for New River to offer additional URD services in central, southern, and eastern Ohio and major metropolitan areas. In 2014, a record of over 104,000 man-hours were utilized on the project.
The Start of An Employee-Owned Workforce
In 1984, New River adopted the Employee Stock Ownership Plan (ESOP) and became an employee-owned company. This gave our employees a vested interest in the form of stock at just $10 per share. Some employees would take their holiday bonus and reinvest that money into New River by purchasing stock, a big reason we've seen this level of growth over the last 50 years.
Johnny Lanning mentions, "I truly believe that the growth our company has experienced would not have been possible without the ESOP. The ownership and buy-in from leadership were crucial to our success."
The commitment to having an ownership mentality was evident in the face of challenging times. During the early days, the company faced financial difficulties. Rather than resorting to layoffs, executives, project managers, and office staff gave up a percentage of their pay to compensate for lost profits. This collective decision conveyed a powerful message that everyone was fully invested in the company's success.
That moment exemplifies the unwavering commitment of our employee-owners, who prioritize the company's well-being and demonstrate a true ownership mentality in challenging times.
Since becoming employee-owned, our teams from the field to the office have provided unmatched customer service due to their motivated commitment to our collective success as a company.
Historical Projects of New River Electrical
Since its inception, New River has had a legacy of providing expert services and support to customers and partners. From the simplest project in a small town to a large build in a major city, our crews have a history of providing exceptional services. A few noteworthy projects are below.
1961: Awarded a contract to construct a Microwave Communications System for the southern railroad.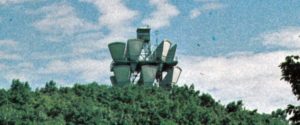 1968: Awarded a Substation Unit contract for Appalachian Power Company in Virginia and West Virginia. New River also constructed a 765kv Substation in Rockport, Indiana, the largest in a wave of new substation builds at this voltage.
1984: New River's highly skilled and experienced crew members executed a remarkable feat, safely handling the transportation of a substantial and weighty 765kv transformer from one location to another, utilizing only their expertise and specialized equipment.

1994: Completed our first Underground Transmission project at Cape Hatteras, North Carolina, installing a 2.4-mile 115kv transmission line under the Bonner Bridge.
1997: Provided a 9-mile 69kv Duct Bank to power substations from Lake Mead, Arizona, to Las Vegas, Nevada. This is our largest contract to date.
2016: New River was entrusted to build an Overhead Transmission with custom poles in Canton, Ohio, outside the Pro Football Hall of Fame.
Click here to learn more about the projects we've worked on recently.
Major Electrical Contracting Services
Although New River got its start building substations, we've expanded our capabilities significantly over the years thanks to the expertise and dedication of our leadership and employees.
Services We Offer
The Power of Our People
New River Electrical would not be as successful as we are today without our team members' unwavering support and dedication. Since the beginning, our team has approached every job with a commitment to providing exceptional service to our customers while prioritizing safety.
A Legacy Built On Safety
Since the beginning, New River has fostered an environment where every employee is dedicated to setting the standard. We prioritize safety and excellence across all the services we offer. We ensure our team has the tools and training necessary to continue the New River Electrical legacy.
We provide our crews with the best equipment, knowledge, and skills to get the job done right without sacrificing the safety of those around us. New River's Safety Team sets the tone for empowering our employees to understand safety practices and procedures on the job, while operating equipment, or when leading a team. Every employee at New River Electrical undergoes safety training to ensure that every job ends with everyone returning home safely.
Forging Ahead with Employee-Pioneered Equipment
In 1968, New River hired R.C. "Buddy" Furr, the longest-tenured employee in NRE history. Buddy was initially hired as a shop helper but went on to be the founding father of our Underground Transmission Division.
During his tenure, Buddy set New River up for success with his innovative thinking and cost-saving proposal. His contribution to designing a 100-ton reel caddy and a 40,000-lb cable puller for the advancement of the cable industry will be remembered by many generations to come.
Thanks to Buddy's innovative dedication, New River is one of the premier installers of underground transmission cable in the United States. "Buddy was one of those handfuls of individuals that built the foundation that New River stands on today," says Arritt.
Ideas to Reality: Equipment Born from Employee Ingenuity
Throughout the history of New River Electrical, we've worked hard to instill a safety culture by increasing training requirements and developing safety-minded messaging from the top down.
In 2021, Foreman Kash Jewel created a tool to help train less-experienced foremen on switching underground circuits. "The Green Machine" gave New River training personnel the ability to simulate dozens of different scenarios in a controlled environment, offering a repeatable and safe way for foremen to know how to diagnose and handle specific issues that may occur.
"We are so pleased that someone from our team has taken it upon themselves to develop a tool that will help keep our workers safe. Job very well done for taking the initiative to bring our safety culture to the next level," says COO Ike Poe.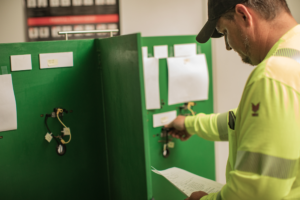 Past, Present, and the Future of New River Electrical
From the first contract to build a small distribution substation in Ohio, New River Electrical has grown into a diverse, nationally recognized, multi-award-winning company with nearly 2,000 employees.
New River will continue to provide best-in-class electrical contracting services, nurture our team members for growth, and maintain our commitment to customers and partners for decades to come. Thank you to our family of hard-working, passionate employees for continuing to set the standard in performance and safety each and every day.