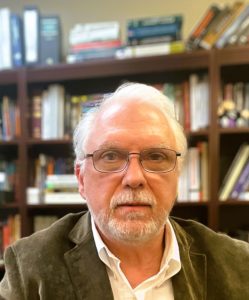 CLOVERDALE, VIRGINIA – Today, the New River Electrical Board of Directors announces the appointment of James Joyner as independent ESOP Trustee for the company.  Mr. Joyner will also serve as an independent member of the Board of Directors. This brings the number of board members to five.  Mr. Joyner currently divides his time as the managing member of Integra Valuation Consulting LLC and trustee for several ESOP-owned Companies.  His areas of professional practice include fiduciary services to ESOPs and valuation of privately-owned businesses.  He has assisted over 125 ESOPSs during the past fifteen years.
"Jim brings a wealth of knowledge and experience to New River, "said Robert Arritt, President/CEO of New River Electrical.  "He has helped our company in the past and his broad perspective gained through working with numerous other ESOP companies is immeasurable; Jim will help us ensure New River's ESOP will thrive in perpetuity."
Mr. Joyner graduated from Bob Jones University with a B.S. degree in accounting.  Through 2005, Jim was a partner with the regional CPA firm, Dixon Hughes PLLC.  In addition to his role with Integra Valuation Consulting, Jim is also the owner of Integra Benefits Consulting in Spartanburg, South Carolina.
Along with his licensure as a Certified Public Accountant, Mr. Joyner is also Accredited in Business Valuation (ABV), a Certified Valuation Analyst (CVA), a Certified Pension Consultant (CPC), and an Accredited Investment Fiduciary Auditor® (AIFA®), Certified in Risk Management (CRM), Certified ESOP Administrator, and a Certified Patent Valuation Analyst (CPVA).  He is a member of the American Institute of CPAs, the South Carolina Association of CPAs, the American Society of Pension Professionals & Actuaries, and the ESOP Association, where he serves on the Legislative and Regulatory Committee.
In response to the announcement, Mr. Joyner stated, "I have worked with New River Electrical for several years and have the highest regard for this excellent company.  I consider this appointment to a special opportunity to serve the outstanding people of New River Electrical."
For more information:
John Vehmeier
New River Electrical Corporation
jvehmeier@nrec.net
540-966-1650
###
About New River Electrical Corporation
New River Electrical Corporation is a nationwide, 100% employee-owned electrical contractor working in high-voltage construction and maintenance of electrical utility and industrial customers. Established in 1953, NREC employs over 1,400 people and is registered to conduct business in 38 states, the District of Columbia, and the Commonwealth of Puerto Rico. They have office locations in Cloverdale, VA and Westerville, OH.