Here at New River Electrical, we're proud to serve and support the areas we live and work in. We are committed to powering communities across the nation and dedicated to the people who call these communities home.
This summer, New River collaborated with AEP for a Day of Service. The teams joined forces to undertake a project that would touch the lives of high school students and staff in the Scott County Public School (SCPS) District.
A Partnership to Tackle Rocky Terrain
Scott County Public Schools maintenance crews encountered an unexpected challenge while trying to install two new scoreboards for Rye Cove High School and Twin Springs High School in Nickelsville, Virginia.
"We purchased a really nice scoreboard but had some problems installing it," Twin Springs High School Principal Jordan Mullins mentioned. "Fortunately for us, New River and AEP stepped up to help. Without them, we would have had a very hard time getting the scoreboards installed before the season kicked off."
During installation, the SCPS maintenance crews discovered a thick layer of bedrock. "We didn't have the capability or the manpower to drill these holes," said Robert Rhoton, Assistant Supervisor of Maintenance for SCPS, "We talked to several contractors, but no one was able to accommodate us in time. We reached out to AEP, who reached out to New River."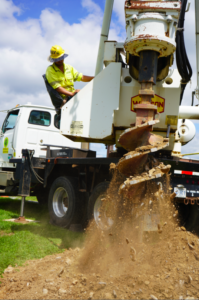 Having a quick deadline, AEP contacted New River Electrical to ask if we possessed the manpower and equipment to help the two high schools. The crews had recently completed work with AEP in the nearby town of Kingsport, Tennessee, and were happy to accommodate.
With thick bedrock and terrain to dig through, the crews got to work auguring holes with a pressure digger to accommodate the new scoreboards. Many safety aspects are involved, even on a small-scale project like this. Our crews set up equipment, cautioned off the area, and dug the holes, ensuring safety throughout the process.
"It's important to give back to the places you live and work," said Brad Vance, NE Supervisor Substation Department at AEP. "Dollars and resources for these school systems are important, and the budgeting can get muddy. It's important to partner with a company like New River where we work together to give back."
The scoreboard installations needed to be completed at both schools by August 25, 2023, before football season started. The AEP and New River partnership strengthened even more with the tight turnaround. This shared commitment was essential not only in this project but throughout their collaborations, enhancing efficiency and fostering a culture of ownership.
Back to School for an NRE Foreman
Josh Vermillion, General Foreman of this project, holds deep ties to this particular community. As a Twin Springs High School graduate himself, the project was personal for Josh, allowing him to reconnect with his roots and give back to the community he once called home.
"Being a graduate of this high school and then being on the road working for ten years, I've lost touch with the community, not being able to support them," Josh mentioned. "This gives me an opportunity to contribute to the area that helped me get where I am today."
Even though Josh left the area years ago, this project allowed him to return to his hometown, school, and roots. "The principal of Twin Springs High School used to be my JV baseball coach," said Josh. "He also helped mold and shape who I am today." These personal bonds infused the project with a sense of purpose and dedication for our whole team.
"When I got the call that NRE and AEP were coming out, I heard that Josh Vermillion was coming to help with the project," Principal Mullins mentioned. "When they mentioned the name, I had to smile because I used to teach him history and baseball. We always want our students to be successful, and we're proud to see that some of our students are willing to come back and help out."
Also, Josh's father, Steve Vermillion, works for AEP and assisted with the project, exemplifying how personal relationships can enhance a project's success.
A Day to Give Back to the Community
The Rye Cove and Twin Springs high schools are more than educational institutions. They're central hubs of the community, drawing people together. "Everything that our kids do gets amplified within our community," said Principal Mullins. "These scoreboards help boost morale, make the school look better, show school spirit, and build a sense of pride and camaraderie in the community."
The Day of Service, a vital part of New River's culture, showcases our dedication to positively impacting the communities we serve. Our drive is rooted in our values like ownership and our culture philosophy of "owning your 20 square feet". This philosophy reminds us that our actions within our "20 square feet" can enable change. Just as we take ownership of our roles and responsibilities in our daily work, this motto allows us to take ownership of the positive impacts we create during the Day of Service. It's a reminder that each contribution, whether in our work or community service, holds the potential to ripple outward, resonating far beyond our immediate actions.
"Thank you so much to New River and the partnership of NRE and AEP," said Principal Mullins. "This is an amazing gesture that you all have given to our community, and we are greatly appreciative."
Having undergone installation, the scoreboards are now in place, ready to enhance the stadium experience and create more memorable nights for the community. The collaborative relationship between New River and AEP helped breathe life into this project.