In a recent meeting holding 75 of the top contractors working for American Electric Power, New River Electrical was honored by AEP with the 2022 Large Contractor Safety Performance Award. "This was a very special and humbling day for New River Electrical, and a true indication of all the hard work from each and every employee here at NRE," stated Chuck Kidd, VP of Environmental Health & Safety.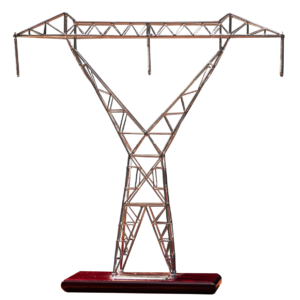 The AEP Safety Performance Awards are given out each year to recognize not only the overall safety performance achieved by contractors working on AEP property, but also the safety and cultural initiatives being driven, supported, and implemented by their leadership teams. Some of these initiatives, like good catch reporting, stop work authority, and high energy icons, have helped create the work environment for New River's goal of zero harm, where everyone goes home from work unharmed each day.
"This honor is a direct reflection of the men and women working on all NREC job sites and would not be possible without their unwavering efforts to create a safe working culture," said Ike Poe, Chief Operating Officer of NRE. "Their commitment to safety and professionalism has inspired the entire leadership team here at NREC."
To instill a deeper understanding of New River's culture throughout every level of our workforce, members of Senior Leadership open every major meeting and nearly 100 dynamic training classes annually with a cultural message on safety. This message is purposefully reiterated at each event to create habit-forming core beliefs focused on employee engagement, hazard recognition, safe behaviors, and zero harm.
"We graciously accept this recognition by American Electric Power for all the hard work, dedication, and commitment our NRE family has made in creating a culture centered around safety. I am proud to be a part of a team where everyone consistently engages in safe behaviors that produce exceptional outcomes, which helps to achieve our ultimate goal of zero harm," stated Robert Arritt, Jr., President and CEO of New River Electrical.
Though this is New River's second time being honored with an AEP Safety Performance Award, there are still opportunities for improvement as we strive to achieve an even greater culture of safety than what's already been accomplished. Chuck Kidd says it best:
"Having been the recipient of two AEP Safety Performance Awards in the last several years is proof that our leadership teams, operations, and safety professionals are aligned and engaged, which supports our overall safety culture. However, we cannot afford to take a day off in safety because it isn't a spectator sport. We can only succeed when our leaders and crews remain fully engaged and well-aligned throughout the organization. This is not a sprint but rather a journey, and we must all remain focused during the final two months of 2022 and well into the future as we continue to build our safety culture one employee at a time".
New River would like to extend warm congratulations to Platinum Power for winning AEP's 2022 Small Contractor Safety Performance Award and Vaughn Industries for their 2022 Medium Contractor Safety Performance Award.
Way to set the standard, everyone!