Volpini brings a wealth of experience in construction law and general business counseling to NRE.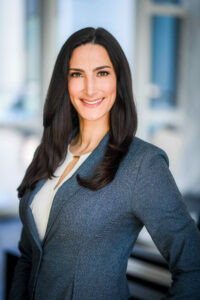 CLOVERDALE, VIRGINIA – Effective Thursday, June 1st, 2023, the New River Electrical Board of Directors announced the appointment of Laura Volpini as the new Independent Member of the Board of Directors. This appointment brings the total number of board members to seven, two of which now being independent members. Before being appointed to the Board of Directors, Laura has built a solid relationship with New River over the last three years, working as a legal resource on many projects and acquisitions.
"We are very excited to welcome our second external Director to New River's Board. We have witnessed first-hand the value of Ms. Volpini's insights as she has protected our great Company while helping us move forward at the same time." stated Robert Arritt, Chairman, Interim CFO & Corporate Secretary. "We look forward to her expert guidance and perspective on our Board in service to our employee owners."
Laura comes to New River with over 20 years of experience in construction and business law. She has extensive experience handling real estate, business, and construction cases in federal, state, and municipal courts and before administrative agencies. In her time practicing law, Laura has been selected on four occasions for the Ohio Super Lawyers® list of Rising Stars, an award designed to identify the top 2.5% of young lawyers in the state. She is also a licensed real estate salesperson in the state of Ohio.
Laura has a B.S.B.A. in Marketing and Logistics and an M.B.A. from John Carroll University. In addition to her degrees from John Carroll University, Laura has also earned her J.D. from Case Western Reserve University. Along with owning her legal practice in Cleveland, Ohio, Laura serves as a member of the Ohio State Bar Association and the National Association of REALTORS®. She is also a published author for multiple law and business publications.
"I am excited that Laura will be joining our NREC team," stated Ike Poe, President & CEO. "I have had the pleasure to work with Laura over the last several years, where I have seen first-hand her professionalism and unwavering commitment to do the right thing. Laura will play an integral role in moving our Company forward, as she brings a unique and impressive set of skills and experiences to our Board."
This appointment comes with substantial historical significance for New River, as Laura is the second woman to be appointed to NRE's Board of Directors, following Dianne Sink, who was a member of the Board for 17 years until retiring as New River's Director of Safety and Corporate Secretary in 2004. "Mrs. Sink really paved the way for ladies to be successful at New River, so I'm excited to see this representation again with Ms. Volpini in such a high-level role in the company," stated Angelia Stanley, Director of Contracts Management.
In response to this announcement, Ms. Volpini stated, "After spending the last several years working and collaborating with the executive and management teams at New River Electrical Corporation on significant business initiatives, I am thrilled at the opportunity to join the Board of Directors and use my over 20 years of experience in construction and business law and consulting to serve the employees, customers, and partners of New River and the local communities it supports."
###
For more information:
John Vehmeier
New River Electrical Corporation
jvehmeier@nrec.net
540-966-1650
About New River Electrical Corporation
New River Electrical Corporation is a nationwide, 100% employee-owned electrical contractor working in high-voltage construction and maintenance of electrical utility and industrial customers. Established in 1953, NRE employs over 1,800 people and is registered to conduct business in 38 states, the District of Columbia, and the Commonwealth of Puerto Rico. They have office locations in Cloverdale, VA, and Westerville, OH.