Our Underground Division has wrapped up work on the Rodanthe Bridge Project, where our crews installed conduit and pulled cable under a 2.4-mile-long bridge over the Pamlico Sound in North Carolina.
NRE's experience working on another bridge in the area meant we were an easy pick for the Rodanthe Bridge Project. "The fact that we got invited back speaks really highly of our team and the relationship we built with Cape Hatteras Electrical Co-op (CHEC) on the last project," says Brian Garrett, Project Manager in the Underground Division, "plus it helped us build on that experience to provide an even smoother project this time around."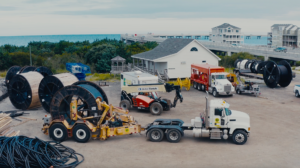 Being Prepared and Staying Flexible
Of course, no matter how smooth the project is, any cable pull project has its complexities that can't be avoided. The crews were originally scheduled to take a break over the summer months to keep both lanes of the bridge open for summer vacation traffic. However, due to some necessary changes to the plan by CHEC, our crews continued to work through the summer. That meant that we would now be working through hurricane season.
"The scaffolding that we installed for our crews to work under the bridge was not rated for high wind speeds that you'd get during a hurricane," explained Garrett. "We had four total scaffolding structures that take about a week to disassemble, so we knew we needed to make an action plan in case a hurricane ended up heading our way so that we'd have time to get everything disassembled and out of the way by the time the hurricane arrived."
Luckily only two hurricanes might have been an issue, and both completely missed the area. But our project management team and crews were prepared well in advance in case they did arrive.
Another issue that our crews needed to address required a custom tool to be designed to get the job done. "The last bridge we worked on had windows in the floor of it so we were able to use those windows to pull the cable through," says Garrett. "There weren't any windows on this bridge, though, so one of NRE's Superintendents, Tim Daniels, designed and fabricated a custom piece of equipment that allowed us to run our cable and pulling lines over the side of the bridge, around, and underneath it, and then back in line to be able to pull the cable straight through the conduit."
Thankfully, with the expertise that New River Electrical has, we're able to address any issue, even if a new tool needs to be invented to do so.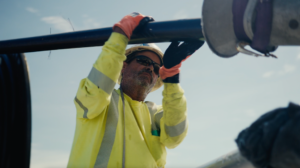 Conquering Obstacles the New River Way
Right before wrapping up the project, our crews were presented with an obstacle that to some may have seemed insurmountable. "We needed to pull a 14,000-foot long fiber optic cable through the conduit that we had installed. Normally, we have pieces of equipment called sidewinders that help push the cable along through the conduit," explains Garrett, "but since we were doing all of this underneath a bridge over water, we weren't able to use the sidewinders."
So what did the crews do? "We basically pulled all 14,000 feet of the cable by hand. We had a piece of equipment at the end that did the main part of the pulling, but we had guys at every location underneath to push it by hand."
If you've worked on a team where you were called to do something that seemed impossible, it can be easy to turn around and give up. "But we knew we could get it done. It wouldn't be fun, but we could do it," says Garrett.
That "no problem is too big to conquer" attitude has become one of the Underground Division's biggest assets as our customers have noticed the commitment to excellence that our crews hold themselves to, even when no one else is looking.
"Our reputation in this division has become so good that we'll get calls from people we met through past projects to ask our crews what they would do in certain situations," says Garrett. "These guys haven't done a lot of school, they're not engineers, they're regular blue-collar folks. But the level of expertise that they've gained through working on different projects over the years, and the knowledge they have in this area, I'd put them up against someone who has done years of college any day. It's remarkable to see how far street smarts can take you."