After a career that spans more than 45 years, Mona Ferguson, Payroll Supervisor with New River Electrical, is retiring at the end of this month. After coming to New River Electrical ten years ago, Mona quickly became an indispensable part of our team, working first in the Fleet Department, then moving to accounts receivable, and eventually moving to payroll.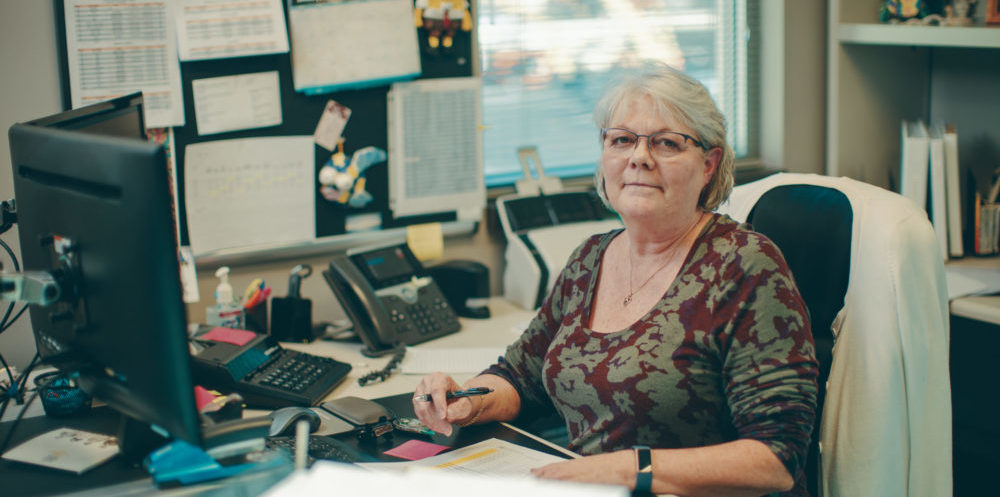 Setting the Standard
Mona had done billing and accounting throughout her career. "I had worked for another electrical contractor for twenty plus years and was recommended that I join the team at New River," says Mona. "I had worked with Larry Worrell previously, and he was responsible for getting me in the door at New River." So in May 2012, Mona made the transition, managing driver files in the Fleet Department. "I was hired by wonderful folks like Mike Howell, Buddy Furr, and Lillian Cook. I really appreciate that they took a chance on me and brought me in," says Mona.
Knowing that Mona had experience in accounting and payroll, Robert Arritt, Jr., now New River Electrical's President and CEO, asked if she would move over to the financial department. "It was really wonderful getting to move into a position that I had experience in without having to leave the company," says Mona.
Working Together for Success
When reflecting on her career at New River, Mona can't imagine being anywhere else. "It's just a great company. The people are awesome," she reflects. Plus, the fact that New River Electrical is 100% employee-owned is a great benefit.
"I've never worked for a company that had an Employee Stock Ownership Plan (ESOP) before, and that's been wonderful," Mona explains. "You are just a part of it. You know if you work harder, you and the people around you benefit. Together, you set larger goals and accomplish them. It's a great way to motivate yourself and the company, as a whole, to do things the right way."
Keeping Roots in Southwest Virginia
Having worked since high school, Mona is understandably excited and a little nervous to retire. "I've worked for so many years," she says. "I know it will be an adjustment!"
During retirement, Mona is looking forward to traveling with her husband, Brent, and spending time with her threechildren. "My daughter lives in California, so we are looking forward to driving out that way to visit her and seeing the sights along the way," says Mona. Once things improve with traveling internationally, Mona says she'd be excited to do some traveling in Europe, specifically Ireland.
But no matter where their travels take them, Mona will return to Roanoke, where she and her family call home. We're so thankful for the years of service and friendship that Mona gave to our team and know we're a better company because of her hard work and commitment.
"Mona brought a wealth of knowledge and experience to New River. Mona has led by example doing whatever it takes, working however long necessary, to get the job done. Since coming to New River, she has made our great company even better. Mona, we thank you for all your hard work, dedication, and commitment to New River. You will be missed, but the standard you set will not be forgotten. We wish you the very best in a long, happy, and healthy retirement." 

– Robert Arritt, Jr., New River Electrical President and CEO