With a Master Electrician as a father and tools in his hand since he could walk, Substation Foreman Mark Nottingham was born to work at New River Electrical.
Born to Be at NRE
"I grew up doing electrical work with my dad, George, who was a Master Electrician by age 18. He's the one who got me into this field 21 years ago," says Mark, an International Brotherhood of Electrical Workers (IBEW) Local 70 member and Virginia native. "Even to this day, if I'm stumped on something, I can always call my dad."
Mark's story began in October of 2000 when his father was called to do substation work for another company. Being a Master Electrician, his father George fell in love with substation work and convinced Mark to come to the site to work alongside him. "I went into the substation, did some work, and actually got hired right on the spot." he said.
After a few months of working as father and son, New River Electrical Project Manager John Swim approached the pair and asked if they wanted to come work for New River. "I made the move to NRE with my dad and have been here ever since. My dad retired from NRE around 2005, and my brother Keith and I are planning to do the same," said Mark.
Mark started as a Journeyman Wireman and says "it was the best work decision I've made in my life because it turned into a career that I love."
In 2005, Mark earned the opportunity to become a Foreman. "To do that, I had to go to Maryland," he said. "I worked up there for seven years and got to do a lot of work with a lot of great people." Being in a new state and working for a different customer was a learning experience because it showed Mark a better perspective of how electrical utilities operate.
Building a Tradecraft
Mark is a team player and is always enthusiastic when it comes to learning new things. "I took the first opportunity to get into American Line Builders Apprenticeship Training (ALBAT) and complete the Substation Technician apprenticeship program, to further my formal education," he says. "The program gave me the opportunity to learn a trade when college wasn't an option."
Mark reflects back to his seven years in Maryland as a time of growth as he continued to expand his knowledge, skills and friendships. "Getting to know people and getting the job done are the best parts of my day." Mark is an outgoing and motivated Foreman, who enjoys building his network of colleagues and friends, much of them are one of the same.
At one point in his career, Mark was asked to move to the Mt. Storm, WV substation. Here he was appointed to the title of General Foreman by then Superintendent, Harold Tomlin, to oversee the wiring during the first 500 KV GIS installation. Mark is grateful for the support from his leadership chain that afforded him the many opportunities to collaborate with all levels of NRE teams to complete this project.
Embedded in the Culture
"My dad always taught me: you do your work like you're the one who's going to come back in a few years and work behind you," Mark mentioned. "Because when you're working behind somebody who doesn't take pride in their work, it's challenging."
Mark enjoys his career so much that he wishes he would have discovered this line of work earlier. "I've got to see a lot of the transition that the power companies have gone through; like changing from old school equipment to digital equipment in these stations, like the Waugh-Chapel, Gambrills, MD expansion project that incorporated the replacement and addition of multiple 500 KV transformers, supporting equipment, and relay panels.".
Mark mentions that he would not be the individual he is today without the mentorship he's received along the way. "Learning from the guys who have years of experience, who teach you how to do things the right way was great; the craftsmanship of this trade and the way they take pride in what they do," Mark says, "I'd like to think I do that well, too. When I stop and think about it, I am one of those guys now; I train and teach people the way my dad taught me."
When asked what NRE's culture means to Mark, he mentions that respect starts at the top and trickles through every layer of the company.
"I love what NRE is. All the way up to our president, our PMs, our management, and our payroll department, they're all the greatest in the world. The people always take care of you."
Once a year, NRE hosts a conference where everyone from all locations has the chance to come together. "It doesn't matter what the year was like; good or bad," he says. "The company has done a good job showing appreciation for everyone in the field and the office. It's nice to be appreciated."
A Proven Reputation Throughout the Years
Over the last 20 years, Mark has worked with a variety of people within the company and puts an emphasis on safety.
In this line of work, Mark has worked on many substations along the east coast, each substation introducing him to different aspects of the job. "Because this job requires us to work outside, it is critical we prepare properly" he says.
From enduring sub-zero temperatures in Mt. Storm, West Virginia to the humid summer days of Virginia, each season has its own challenges especially for maintaining safety. "Safety is paramount and is added to everything we do," he says. New River Electrical embeds safety into everything ensuring all employees are protected and procedures are followed. "We look out for each other like brothers would," Mark says.
"I work with amazing people, some of them are retired and some are still with NRE today; Project Managers John Swim, Johnny Lanning, Terry Garrett, Chris Whitely, as well as my current PM Craig Oliver, the Tomlin family (Harold, Jesse, Billy, Kenneth, and Mike), and Gary Stevens, who I also consider huge mentors, to name a few."
Mark mentioned that his team members and leaders are not just good people, but good teachers. "My coworkers over the years have been an inspiration, and some have become lifelong friends."
Commitment to Family
During his time off, Mark, his wife Cathie, and his daughter Alanna love to travel throughout the Virginia, Maryland, and Carolina areas. "We love exploring the mountains, hiking trails and skiing as well as driving the truck out on Corolla Beach, Outer Banks." he says.
In his spare time, Mark likes to put his fabrication skills to work by designing and building unique objects, such as tailgate mud room benches, pallet coffee tables, and bar stools made from antiquated electrical equipment. He humbly wouldn't admit it, but he's a master craftsman with a creative vision.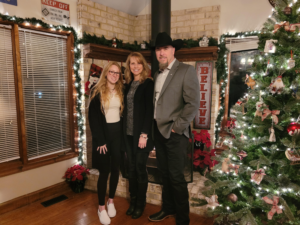 In closing, Mark shared sentiments, "I'm very grateful for the life I have; my family, friends, and the love and support they give me, and especially being a part of the NRE family."
We are very fortunate to have Mark Nottingham as a member of our team. As an employee-owned company, Mark sets the standard for what it means to be a team player and mentor.