Family Roots at New River Electrical
At New River Electrical, we consider our team to be family. For Jason Miller, Project Manager of Distribution Operations, New River has family connections at its roots.
"I'm from Zanesville, OH, about 50 minutes from New River's office in Westerville. My dad worked for New River for a long time as a foreman on an overhead crew when I came to work," explained Jason. His dad, Jake Miller, started as an overhead lineman in 1990, went on to become a general foreman in 1995, a project manager in 2000, and then later became the vice president of the Overhead Division in 2001 before retiring in 2013.
Jason has witnessed firsthand how New River has set the standard in the electrical construction industry for over two decades. While Jason took a hiatus from New River for 17 years, working for American Electric Power, he still oversaw our New River crews on job sites from the utility side. He always noticed how good of a team we have at New River.
"It's amazing how much work they can get done. Everyone at New River pulls their weight. If everyone is working, things get done," said Jason.
Coming home
In 2018, Jason made his way back home to New River to take a position as a foreman on a network crew. Fast forward to 2019, Jason received a call from Brian Allmaras, VP Underground.
"Brian asked if I would be interested in a Project Manager job, and I was," said Jason. He started in that position first of the year in 2019. "It was a move I wanted to make for five or six years before I made the jump back. It was something I wanted to do and be a part of."
Today, Jason manages our Network, Underground, and Overhead Distribution as Project Manager of Distribution Operations. With this position comes the exciting challenges of managing new divisions with 250+ New River employees dedicated to succeeding on our projects.
Jason enjoys this role since he gets to use his skills he's developed in the field over the years. For now, the daily business continues for Jason and his teams. Soon the Underground Division will be headed out to Indianapolis, IN, to begin a brand new civil division project, working on adding ducts and manholes. Even though this is a different venture from their usual work, Jason and his team are excited to expand to new areas and projects.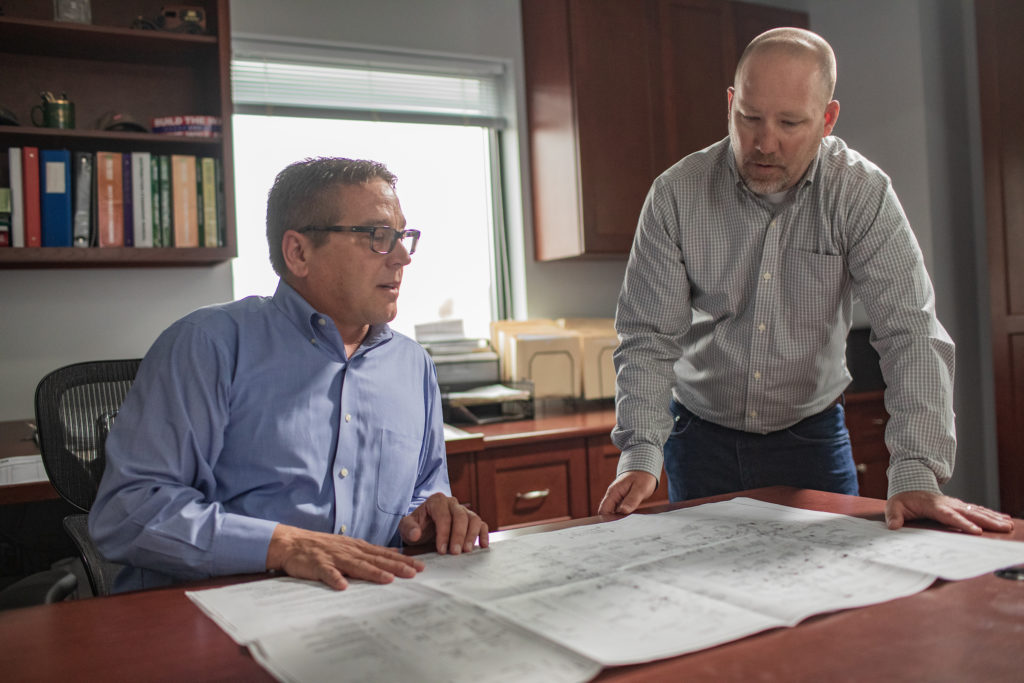 Proudly Setting the Standard
Since coming back to New River in 2018, Jason and his teams set the standard in every part of their job. "When working with our customers, I always wanted New River to do the job because they could get it done efficiently and safely," Jason explained.
"We all work together as a team. Everyone is heading in the same direction. Everyone has the same common goal, and everyone is wanting to achieve the goal. That's what drew me to New River."
Stepping back to reflect on how New River has impacted his life, Jason says, "I'm blessed to be here. I love it here, and I'm proud to say I work at New River. I never felt like that before."
Success through Teamwork
Jason attributes New River's success to our collaborative work ethic: "I couldn't do this job without all the support. I have a great team around me. My superintendents and general foremen are top-notch. Also, we have a new admin staff that really go out of their way to help me here in the office."
Outside of work, Jason spends time with his wife and two kids. He's an avid hunter and fisher. It seems that, even in his spare time, Jason can't get away from project management as he is currently working on a brand new house for his family to enjoy.
We're thankful for hard workers like Jason who continually set the standard each day with New River Electrical.