The New River Electrical Difference
At New River Electrical, we're proud to have employees who stick with us for the long haul. Jared Hurley, Field Supervisor in the Underground Transmission division, has been with us for nearly 10 years out of his 16-year career in the industry. Before coming to New River Electrical, an inspector associated with a project Jared was working on told him about New River's culture and the way we treat our employees. Jared decided to make the switch, and he's been with us ever since.
Safety First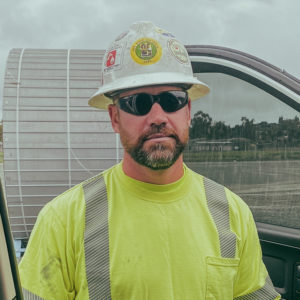 When asked about the most important aspect of his work over the course of his 10 years with New River Electrical, Jared said without hesitation, it's the company's ongoing commitment to safety. "NRE has such a great safety record, which is a really big deal," he says.
"Safety is the number one priority. Every day you want everyone to come home the same way they came into work."
Jared's been particularly impressed with NRE's extensive safety training. "New River flies us out for safety training and always ensures our training is up to date."
Always New Challenges
Additionally, it's the variety Jared gets in his job that is at the core of his success. He says every day on the job at NRE is a new experience, keeping things fresh and interesting.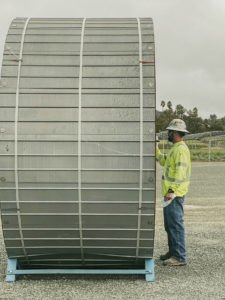 A typical workday for Jared begins between 6 or 7 a.m. and finishes up around 5:30 p.m. but what happens in between is never really "typical." There are moving parts to each job from start dates and deadlines to the logistics surrounding the job like equipment needs.
"Every job is different — it's always a different puzzle to solve," he says. The work is constantly evolving from job to job, and the environment Jared is working in evolves with it, from the weather to the places the job is located in.
"This job is six days a week, so you always have to look at the weather. I'm working out in California right now so we've been pretty spoiled by good weather out here, but that's not always the case," he said.
Traveling to different job sites is something that Jared really enjoys. It's a part of what keeps things interesting day in and day out.
"I like moving around and seeing different spaces. I like the variety in the job, whether it's different utilities, people, or areas."
Commitment to Family
But for someone who is married with four kids — two boys, and two girls — family is a big deal for Jared and at the end of the day, New River Electrical's family-focused approach to their work culture is something that he really appreciates about NRE.
"NRE is very family first. We are usually always home for the holidays and they make sure to get us home at least once a month or more," he said.
"Family is a big deal for me and being away from them is hard, but if I'm working, then I'm taking care of them and providing for them."
It's part of the priorities we've set at New River Electrical. As a company, we work hard to prioritize the important things, knowing that our crews then go out into the field, empowered to set the standard in our industry for their expertise, service, safety, and craftsmanship.