The most important job of a 100% employee-owned company is to show appreciation to the people doing the hard work. Because of them, New River Electrical has become the best choice for electrical construction and maintenance across the United States. 
Our crews take pride in what they do. They provide vital services and skills needed to deliver projects professionally and in scope while keeping the lights on. 
An employee that demonstrates everything our NRE logo represents is Casey Myers, Substation Division General Foreman. 
Working out of our Westerville, Ohio office, Myers has spent two decades with New River Electrical. Referred to us by a friend and knowing the type of company we've built, Myers became a key part of NRE over the past twenty years.
But what made Myers choose to come to New River? It's simple – he felt immediate appreciation from NRE employees and leadership.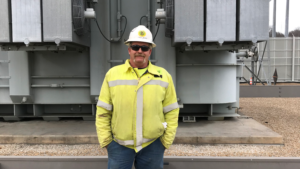 Appreciated From the Start
"I started with NRE at the bottom as a groundsman, worked my way up to be an operator, got training at ALBAT (American Line Builders Apprenticeship Training) to be a journeyman substation technician, and now I help lead our crews working on our Substation projects," explains Myers when asked about NRE journey. 
As a long-tenured employee with 20+ years of experience, Myers sets the standard for the dedication one gives to their company. You may wonder why someone is so committed to one job for such a long time? Myers explains that, for him, it's all because of a simple thank you and an honest sense of appreciation.
"When I got hired by Jeff Leonard in 2001, I was finishing my paperwork, and he looks at me and says 'Thank you.' I thought that was odd at first, but he was saying thank you for coming to work with us. That day I told him that if you keep me working, I'll always work here. I've been here ever since," says Myers. 
Appreciation, Myers explains, is how he leads his crews on the job no matter the task. 
No One Left in the Dark
We don't leave our customers in the dark. The same goes for our crews that Myers looks over each day. Asked about common challenges our crews face, Myers explains that "our work changes all the time. I'm in charge leading large groups of guys each day and a variety of challenges come up from the start of the project to the end of the project."
Through the challenges, what's the key to safely and successfully overcoming adversity? Honest communication where no one is left in the dark, says Myers. 
"I lead by getting everyone involved. I don't keep anyone in the dark about what I'm doing and what we're asking each other to do. I always talk it over with the whole crew. If I tell them to dig a ditch, I let them know what's going on and why. I make sure to tell them what we're trying to accomplish and set goals for the work," says Myers. 
Our culture promotes open communication both on the job and in the office. "Safety at New River Electrical is huge. We've come so far in the 20 years that I've been here that I can't imagine how safety will grow in the next 20 years," says Myers.
Returning the Thanks
Because of a simple "thank you," we've been fortunate to have Myers as an instrumental piece of our NRE culture. Looking back on his career, Myers shows nothing but appreciation for a company that stuck with him. "New River Electrical is the best electrical contractor out there. I believe we currently are and always need to be doing things above and beyond other contractors."
"There's a lot of people to thank for my time here. Jeff Leonard, Ronnie Dalton, Dean Chick, and so many more were – and are – huge in my career," says Myers. 
When off the job, Myers leads a team back home: his family. With four kids involved in sports like basketball and taking care of the family farm where he was raised and lives, Myers still manages to go hunting often.
From all of us at New River Electrical, we want to thank Casey Myers. His dedication to our company sets the standard for how high-quality electrical construction work should be done.