In celebration of our strong belief in family values and our dedication to maintaining the highest safety standards on our projects, the NRE Safety Department is excited to sponsor this year's coloring contest. Through this contest, we aim to emphasize the significance of family bonds and remind ourselves why we work diligently every day to SET THE STANDARD in safety.
We warmly encourage each family to join in this wonderful initiative for a chance to win incredible prizes! Your child's participation will not only bring joy and creativity to your loved ones but also reinforce our collective commitment to a safe and secure environment for everyone at New River Electrical.
Contest Rules
This contest is open to all children, grandchildren, and other young family members of NRE.
The contest will consist of three age groups: 5 and under, 6-10, and 11+.
The coloring sheet must be submitted with a high-resolution photo of the NRE employee coloring with the family and enjoying time together. Below, you'll find links on how to take a high-resolution photo with a smartphone:

Entries must be received by September 15, 2023.
Prizes will include VISA gift cards and will be awarded for each age group; $300.00 for 1st place, $200.00 for second place, and $100 for 3rd place for each age group. The winners must use the gift cards for an activity of their family's choice. Please submit a photo of the family enjoying this time together.
Please submit the proper coloring page for the proper age group, or your submission will not be considered.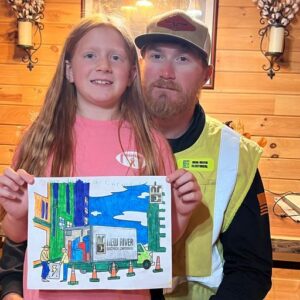 Coloring Sheets
Submit Your Entries
Coloring pages can be found above, or stop by the office for a copy. Entries may be submitted in the following ways:
Scroll to the form below on this webpage and submit it electronically.
Drop off your entry at the front desk of any NRE office.
Mail the entry along with the back of this form to the Cloverdale office at New River Electrical Corporation Attn: Coloring Contest, PO BOX 70,  Cloverdale, Va. 24077.
Entries will be displayed in the local offices, publications, or on official social media channels. When voting becomes available, you can cast your vote on the New River Electric Facebook Page. Need a print off of the coloring contest rules? Download the Official Contest Rules here.